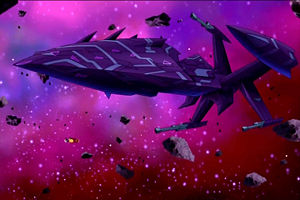 The Nemesis is the Decepticon's flagship.
Construction
Edit
The Decepticons made the Nemesis to chase down The Ark. It conneceted to the Ark, and later seperated from it when The Ark flew into a black hole.
It later took the decepticons back to Cybertron.
Deathasaurus
Edit
Deathasaurus took the Nemesis to stop the Ark II, but failed. It then flew back to Cybertron, where it was tooken into Autobot custody.