Ironhide is an Autobot weapon specialist.
Dion was best friend to Orion Pax. The two joined Guardian Prime's Autobots whenThe Fallen attacked. They were both killed in action.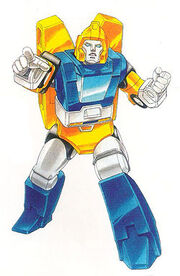 Alpha Trion found the bodys of Orion Pax and Dion. Alpha rebuilt them with information from Vector Sigma. He gave them fake memories. Dion thought that he was a prisinor of war in the first great war, and that he narowly escaped. he was then trained in a boot camp. He graduated, and his name was Ironhide
When Sentinel Prime created the Autobots, he joined. He was on The Ark when it went to Earth. When he returned to Cybertron, and saved the High Council, he joined the High Council. He was on the ark when Optimus Prime died.